Dr Brown's Preemie / Ultra-Preemie Flow Nipples are for babies showing difficulty with early transitions to bottle feedings; late pre-term infants; ideal for breastfeeding infants and those receiving supplemental bottle feedings.

Medical teams in NICUs and hospital nurseries report transitions to full oral feedings in less time using the Ultra-Preemie level than with a faster flow nipple.
All Dr Brown's nipples are Quality Controlled to assure a consistent and dependable flow rate every time
35% slower flower rate than our current preemie nipple
100% Made of super-soft, high-grade silicone
BPA free
Designed to withstand the rigors of consistent use in hospital NICUs
Individually wrapped
Only use with Dr Brown's Natural Flow Original / Options+ bottle systems / Specialty Feeding System
For more information, please refer to product catalog: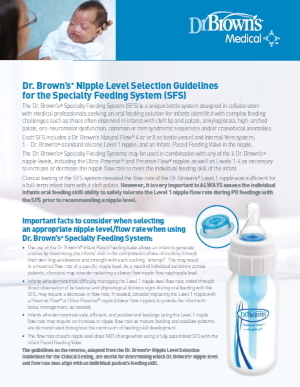 Dr Brown's Medical is committed to assisting medical practice professionals to facilitate safe, successful and positive oral experiences for hospitalized infants from admission through their discharge to home. Over 1 million infants and families in the US experience some type of oral feeding challenge related to oral feeding maturity and complex medical conditions that disrupt feeding skill development. Through the clinical insight provided by skilled neonatal care providers, developmental and feeding specialists, and feedback from parents of infants who have experienced short and long term feeding challenges, our team of engineers continues their innovative work to develop feeding products designed to support positive long term outcomes and allow for the delivery of evidence based, safe, effective and cost-efficient care. Medical professionals can rely on our products at each feeding as they assist to foster parent confidence and infants' feeding skills for a smooth transition home.